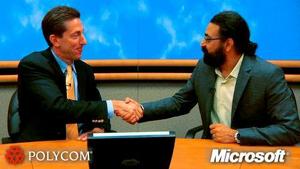 Polycom and Microsoft have announced a channel partnership to increase Microsoft's Unified Communications (UC) offerings. As a part of the multi-year global agreement, Polycom will develop and provide integrated end-to-end UC solutions, including room-based video systems, for Microsoft's clients. Under this partnership, Polycom becomes a member of Microsoft's key strategic global alliance.
AVI-SPL Director of Video and UC Project Management John Vitale shared his thoughts about the partnership: "I think this is a good step for both Microsoft and Polycom to take and help accelerate the adoption of Unified Communications. In the past, video has always been the 'leave it for later' feature of UC due to its challenges with mass scale deployment in an enterprise. Polycom and Microsoft teaming up to help solve these issues can only help the situation. I'm looking forward to the fruit this partnership will bear."
For more information about the agreement, click here to read the announcement and watch a brief video featuring Microsoft Corporate Vice President of UC Products and Polycom President and CEO.